SR. LIVING/RETIREMENT EVENTS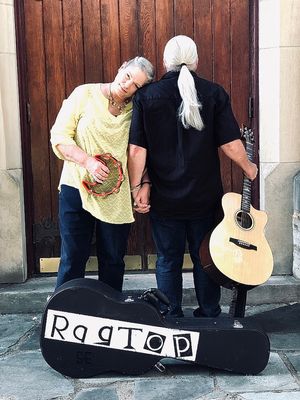 RagTop is the Roanoke, Virginia based  acoustic duo of Jim and Renee Oliphant. RagTop performs Adult Contemporary, Blues and R&B and classic American Standards with earthy, acoustic styling focusing on the signature riffs and melodies that make your favorite songs memorable while keeping the arrangements organic, smooth and richly expressive!

RagTop has been a favorite on Regional TV. RagTop has also appeared on radio programs including 96.3 FM/1370 AM Austin, TX - WUVT Virginia Tech Blacksburg, VA - WVRU Radford University, Radford, VA and BlogTalk Radio and performs nearly 200 shows a year!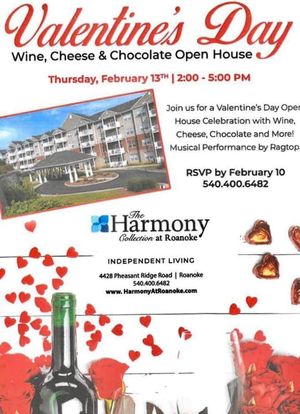 RagTop Senior Entertainment Services
RagTop also performs and entertains at Senior clubs, groups and living facilities - we have worked with over 50 senior living facilities in Virginia over the past several years! We perform music from the 20's, 30's, 40's, 50's and 60's - music filled with memories - the music that your residents grew up enjoying! We are full time musicians and are available seven days a week mornings, afternoons and evenings.

Some of the facilities that we have worked with include:

Bently Commons Lynchburg, VA
The Glebe Daleville, VA
Brandon Oaks Nursing & Rehab Roanoke, VA
Snyder's Nursing Home Salem, VA
Brookdale Senior Living Solutions Roanoke, VA
Brookdale Senior Living Solutions Staunton, VA
Friendship Manor Assisted Living Roanoke, VA
Friendship Manor Rehab Roanoke, VA
Brightview Baldwin Park Staunton, VA
Adult Day Care of Roanoke Roanoke, VA
The Summit Lynchburg, VA
Heritage Green Lynchburg, VA
Elm Park Estates Roanoke, VA
Park Oak Grove Roanoke, VA
Richfield Retirement Salem,VA
Warm Hearth Village Blacksburg, VA
Virginia VA Care Center Salem, VA
Berkshire Health & Rehab Vinton, VA
Roman Eagle Danville, VA
South Roanoke Nursing Home Roanoke, VA
Senior Prom event at Brandon Oaks
Roanoke, VA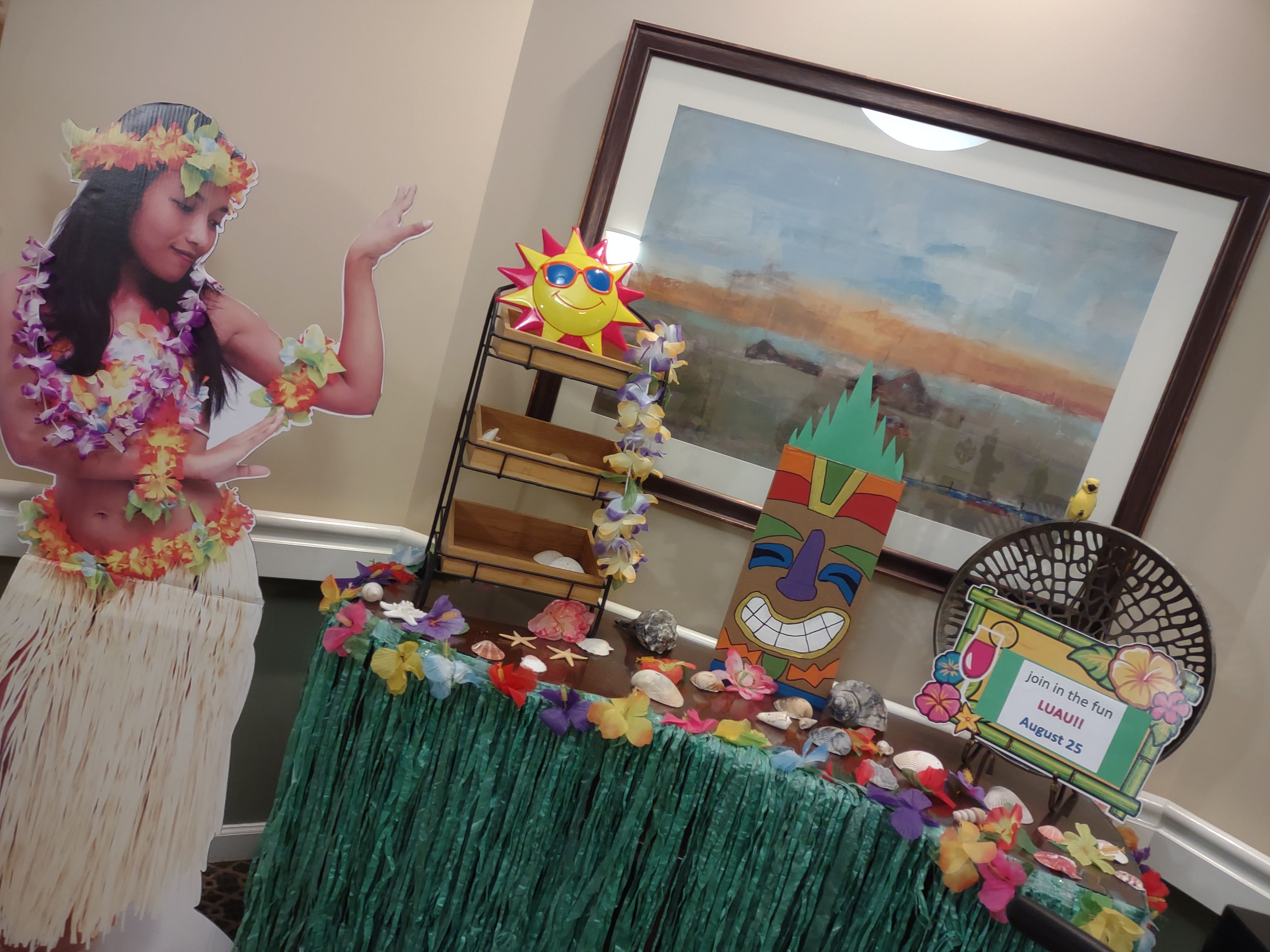 LUAU Party
(Brightview Baldwin, Staunton, VA)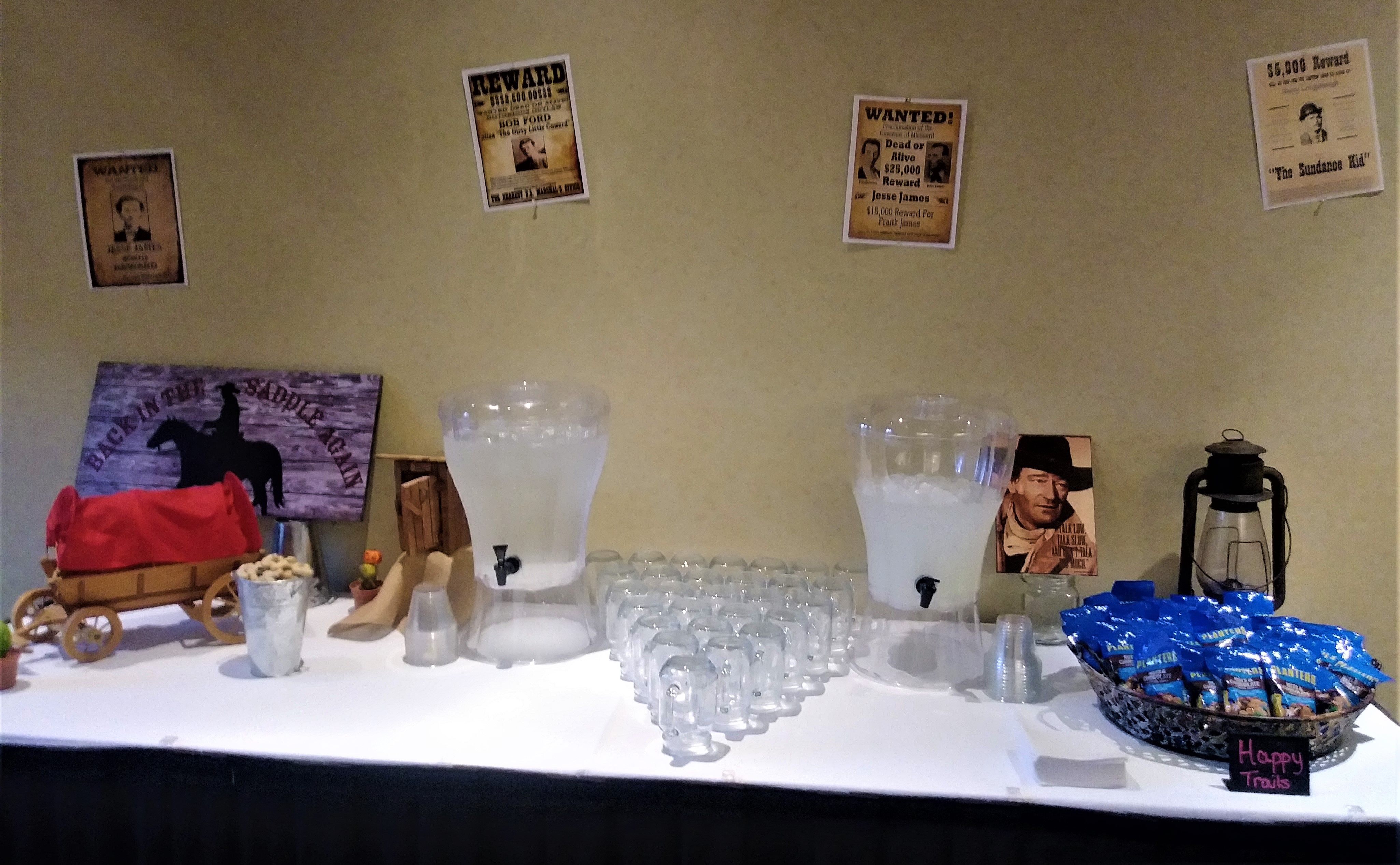 (Western themed party at The Glebe Daleville, VA)
Have a theme for your event? We can do that too! We have 20's & 30's, 50's, Western, Valentine and Luau themed music for your event!
Fees & Invoicing

We use Square for our invoicing. It provides an email invoice with all of the details for your event with the added convenience of paying by expense credit or debit card directly from the invoice or by card the day of the event. We will forward an invoice when you book us or the month prior to the event if you are booking ahead for the year. Our fees vary depending on method of payment (we are full time performers and depend on timely payment for our livelihood). All invoices paid "prior to" or "on the day" of an event are discounted. Call (540) 339-4170 or use the form to the right to contact us to discuss performance fees and times, etc.
"Laughter is merely a smile set to music!"
Check out a Contactless Courtyard Concert!
We have developed creative ways to offer our entertainment services and follow CDC guidelines and your facility guidelines. We are offering a few options for you to consider and of course, in your specific time frame. We just want to let you know we have developed these services with senior living facilities in mind.
Facebook Streaming Music Programs - We are offering this service at no charge – absolutely free!
We have a private group page on Facebook just for activity directors. Activity directors can request to join here >RagTop Entertainment Senior Services (Private Facebook group page)
We provide music entertainment directly to your facility and you can access it for your events when ever you want! We can schedule a live show stream to our group anytime and we also offer pre-recorded programs (sing-a-longs, holidays, any occasion, etc) to use on demand.
 Contactless Courtyard Concerts - Outdoor live music for indoor residents to enjoy! (these shows depend on weather - we are now scheduling for Spring/Summer/Fall 2021)
We have already been working with senior living facilities and providing live music entertainment this way. We play in an outside patio/courtyard/spot on the lawn and have NO contact with any residents or staff. We do not enter the facility or approach an entrance. We use our large PA system for some locations and for others we have a powerful small system that can run on battery power for up to 6 hours. Once we are set up, staff opens some windows for the residents to enjoy the live music! We use Square for invoicing and the entire process is contactless and safe!
It is difficult to know how things will proceed day-to-day but we want you to know these options are available. We are keeping safe and practicing social distancing while finding ways to keep the music entertainment alive for all of the awesome residents of our senior living facilities!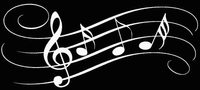 Sample Song List 


Under The Boardwalk / Sand in My Shoes- The Drifters
You Send Me - Sam Cooke
We're Having a Party - Same Cooke
Walking After Midnight - Patsy Cline
I Can't Help Falling in Love With You -Elvis Presley
Blue Suede Shoes - Elvis Presley
Mr. Sandman - The Chordettes
Mustang Sally - Wilson Pickett
Save the Last Dance for Me - the Drifters
Come and Go with Me - the Del Vikings
Twisting the Night Away - Sam Cooke
Be Bop A Lula - Gene Vincent
Blue Moon - Classic American Standard
Shama Lama Ding Dong - Band of Oz
Rockin' Robin - Bobby Day
Rock Around the Clock - Bill Haley and His Comets
Hit The Road Jack - Ray Charles
Tutti Fruitti - Little Richard
Sea Cruise - Frankie Ford
Tennessee Waltz - Patti Page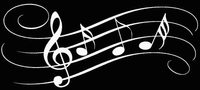 20'S



Side By Side
Minnie the Moocher
Ain't Misbehavin'
Ain't She Sweet
Ain't We Got Fun
Has Anybody Seen My Gal?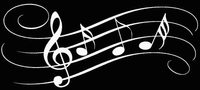 Sing-A-Longs



You Are My Sunshine
Daisy, Daisy
Let Me Call You Sweeheart
Baby Face
In The Good Ol' Summer Time
Tiny Bubbles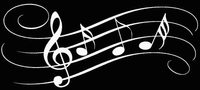 Halloween Sample Songs



Addams Family TV Theme Song
Bibbidi-Bobbidi-Boo - Cinderella
Little Red Riding Hood - Sam the Sham and the Pharoahs
Love Potion # 9 - The Searchers
Monster Mash - Bobby Pickett and the Crypt Keepers
Purple People Eater - Sheb Wooley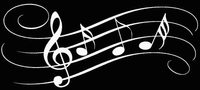 Christmas Sample Songs



Rockin' Around the Christmas Tree
Winterwonderland
Blue Christmas
The Christmas Song
Here Comes Santa Claus
I'll Be Home For Christmas
It's Beginning to Look A Lot Like Christmas
Frosty The Snowman
Little Drummer Boy
Let It Snow
White Christmas
Run, Run Rudolph
Mr. Grinch
Silent Night
Away In A Manger
I Saw Momma Kissing Santa Claus
Santa Baby