Your House Concert with RagTop
A Brief Video sbout House Concerts
A house concert is a chance to experience the music of RagTop in a warm and intimate, listening environment. It is different than a party with live music. It's when someone opens up their home and invites a favorite musician into their living room to share a performance. For the host and their friends it's a chance to meet the performers and get them to sign their CD and hear the stories behind the music. A house concert is also a great social evening of friends and neighbors.

Your house concert could be:

* a concert under the stars on your deck
* a reason to get all your friends together
* a way to celebrate a birthday or other special occasion
* an alternative to going out on a Friday night
* an opportunity to enjoy friends and music in any home setting


If you would be interested in a House Concert with RagTop call us at (540) 339-4170 or email us using the form below and let's get started planning your house concert!
It's an invitation-only concert in someone's home, presented by a host who does not profit from the event. Most house concerts are:

• held indoors and on weekends - promote to and invite your friends and family!
• attended by 20-45 people
(you can limit the group to whatever size that you fell comfortable with)
• paid for by a $10-20 donation per guest (to the performer)
• known to include light snacks, beverages or a pot-luck dinner
(some social time before the show and then be sure that everyone is seated before the performance starts)
• attended by the host's friends, neighbors, co-workers, and maybe a few fans of the artist
• Simple set up - you don't need a lot of space - you can hold your house concert in a basement, backyard, garage or apartment club house but most choose their living room for the cozy atmosphere.
• performed by solo acts, duos and small groups
• performed with a very small sound system
• very intimate — the audiences sit close and are attentive  (not the same as a party in your home but a warm, friendly listening room atmosphere)
• performed in two, 40-minute sets with a 20-minute break
(the performer can sell CDs and merchandise during the break and after the show and spends time meeting and chatting with guests)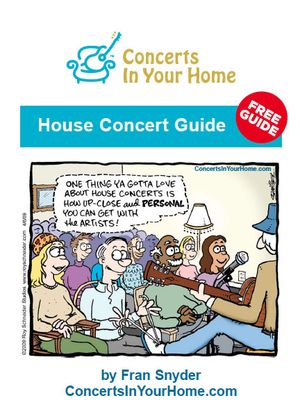 Click on the image above for a FREE guide to hosting a house concert from ConcertsInYourHome.com!